157.82 Acre(s) Hunting Land, Tillable Farmland, Acreage, and Farm Equipment Auction - Land all 1 Tract Monona County - (SOLD)
16624 Oak Avenue
Castana, IA 51010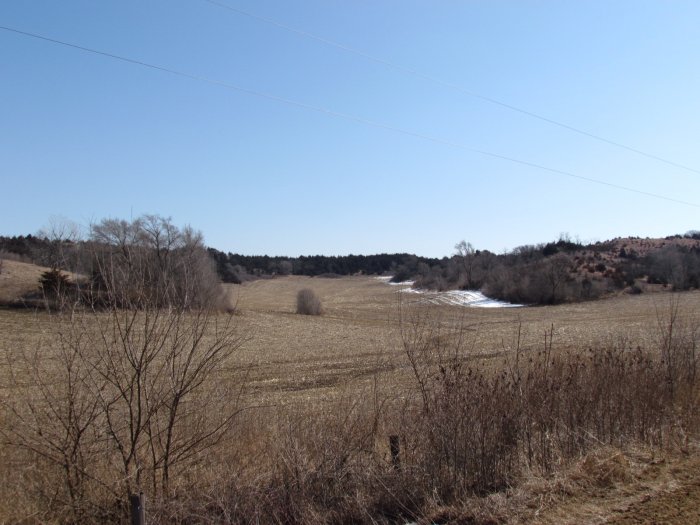 Property Description
157.82 ACRE(S) HUNTING LAND, TILLABLE FARMLAND, ACREAGE, AND FARM EQUIPMENT AUCTION
LAND ALL SELLING IN ONE TRACT – KENNEBEC TOWNSHIP, MONONA COUNTY, IOWA

Tuesday, March 27, 2018 – 10:00 A.M.

Sale Site: Directions to Property: On east side Onawa, Iowa at Western Iowa Power take CR-L12 northeasterly for 7.2 miles, then take right turn onto Nutmeg Ave. and drive 2 miles, then take right turn onto Oak Ave. and drive 0.4 miles to site. Watch for signs.


• Beautiful Loess Hills Land • Perfect small Livestock or Horse Farm • Country Living (4 Bedroom Home and Buildings built in 1890) • In close proximity to Onawa and Mapleton and Castana • Outstanding Hunting Potential • Tractor, Farm Equipment and Classic Impala


Sale Order: Real Estate at 10 A.M. Sharp, followed immediately with all the Farm Equipment Items.
REAL ESTATE

LEGAL DESCRIPTION (Abstract to Govern)
E1/2 of the SE1/4, and NW1/4 of the SE1/4, and the NE1/4 of the SW1/4 of Section 4, Township 84 North – Range 44 West (Kennebec) of the 5th P.M., Monona County, Iowa.


TRACT DESCRIPTION

The property has beautiful scenic views of the Loess Hills with hardwood trees located on east side of the farm (look at photos in the gallery) deer heaven. The property lies surrounded by thousands of secluded acres of Prime Whitetail Property and Iowa Land. The Land does have a Home, Buildings and Yards going back to 1890 all selling in its as is condition. Other use could be Horse or small Livestock Farm. Tillable Land -36.19 acres, Hunting Land and Timber – 121.63 acres. Primary Soils: Hamburg silt loam, Napier silt loam, and Castana silt loam. CSR2: Weighted Average – 24.9 and Tillable Land CSR2 Average – 53.2. Annual Taxes: $1,882.

AUCTION TERMS & CONDITIONS:

PROCEDURE: Sale Price will be determined by taking 157.82 taxable acres as the multiplier times the dollar amount per acre bid at the auction.
DOWN PAYMENT: 10% down payment on the day of the auction.
CLOSING: Closing shall occur within approximately 45 days after auction day and in accordance with the specific terms of the Agreement to Purchase. Possession shall be given at closing. Buyer will have full possession of the crop land for the 2018 crop year. Real Estate Taxes will be prorated to date of closing. The closing will be handled by Lee M. Rankin – Willson & Pechacek PLC Attorney - 710 Iowa Avenue, Onawa, Iowa 51040 Ph: 712-423-1652

PERSONAL PROPERTY (FARM EQUIPMENT AND MISC.)
Inventory Includes: (All the following sells as is where is) Farmall H Tractor, antique 2 bottom plow, old riding lawn mowers for parts, Primitives, old slip scoop, 2 row rotary cutter, old JD 2 row planter, 1967 Chevy Impala 2 door (as is), 1963 Chevy pickup (as is), 3 wagon boxes and gears, steel wheeled implements, IH tandem disk, 4 row JD planter for parts, 2 row 3 point cultivator, loose miscellaneous iron and old farm items. Make plans to attend!
Sellers: Estate of Joyce E. Dumond
Lee M. Rankin, Attorney
Contact Russ McCall for further information Ph: 712-423-1901

Note: For Soil Maps and Aerial Maps Click BROCHURE at the Top of this Page

Auction Conducted By:
McCall Auctions and Real Estate
Onawa, Iowa
712-423-1901
Russ and Brent McCall, Auctioneers
Loretta McCall and Andrea Meyer, Clerks