2 Day Estate Garage Sale - Auction on Sunday for Real Estate and 1923 Hot Rod Roadster - (SOLD)
706 2nd Street
Onawa, IA 51040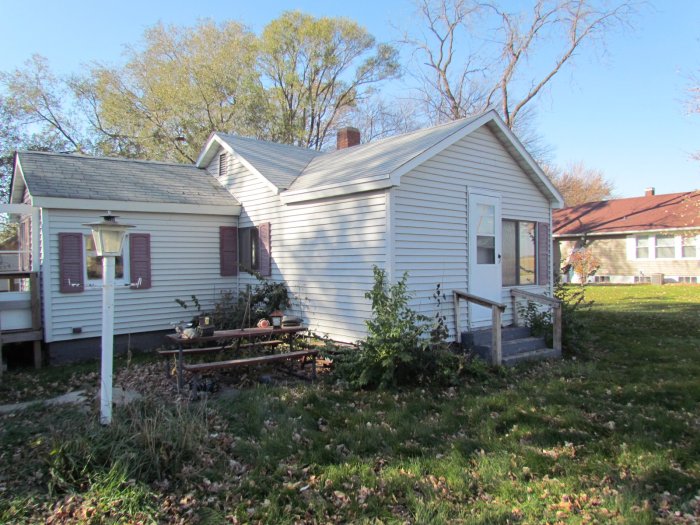 Property Description
2 - DAY ESTATE SALE – Nov 18 and 19
ONAWA, IOWA REAL ESTATE
2 BEDROOM HOME, 1923 HOT ROD ROADSTER,
Selling at:
PUBLIC ESTATE AUCTION
Sunday November 19 • 2:30 P.M.
Address: 706 – 2ND Street
ONAWA, IOWA
Along with a 2 day Garage Sale that will be running both Saturday and Sunday, November 18 and 19 from 10 – 3 P.M. each day! Includes – Collectibles, Wicker, Household Furniture, Cast Iron Pans, Kitchenware's, Wall Hangings, Pictures, and Totes full of Household Items, and Much More!
Make sure to read this ad carefully and understand the schedule of this weekend Event!

NOTE: Inspections will start at 10 A.M. on Sunday morning for the Auction of the Real Estate (2 Bedroom Home and Unattached 2 Car Garage) and the 1923 Hot Rod Roadster.
Real Estate: Legal Description: S 44' LOT 2 & N 49.5' LOT 3 BLK 30 City of Onawa, Monona County, Iowa. Terms: 10% down day of auction with balance and possession at closing 30-45 days. The Property Selling Subject to Sellers Approval as is. Notice to the Buyer of Real Estate: All Personal Property left at 3 P.M. on Sunday goes with the Real Estate. Taxes: $351 Closing Attorney: Lee Rankin Ph. 712-423-1652
1923 Hot Rod Roadster
1923 T-bucket hot rod
Yellow fiberglass body and black frame
Chevy 350 engine
Automatic
Was built by Bob Larson with multiple new parts and was enjoyed locally when driven. Has excellent power and was well cared and housed indoors all the time. Fun car = California Cruisin' in the great Midwest. Bob would have loved to see this car go to someone who loves old cars as much as he did.
Seller: Patricia Larson Estate
Jim Larson – Executor, Lee Rankin - Attorney
Go to our Website for many photos of what to expect:
archive.mccallauctions.com

Auction Conducted By:
McCall Auctions and Real Estate
Onawa, Iowa
Ph: 712-423-1901
Russ and Brent McCall, Auctioneers