Land Auction - 164.06 Acres in Lincoln Township, Monona County, Iowa - (SOLD)
320 - 10th Street
Onawa, IA 51040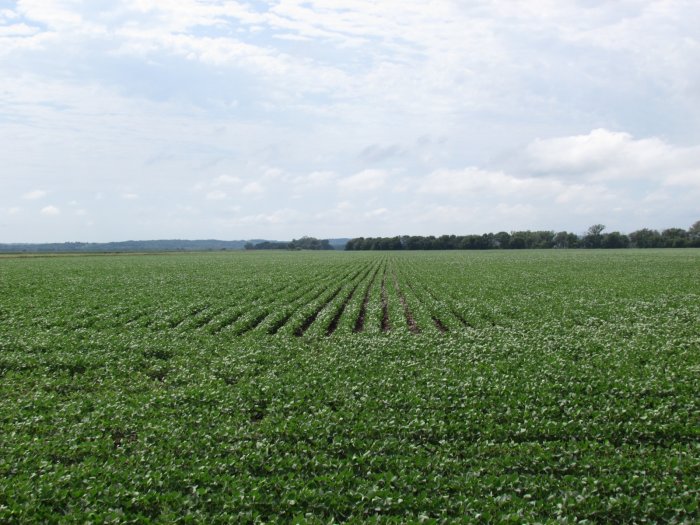 Property Description
LAND AUCTION
164.06 Acres +/- Monona County, IA.
Saturday, August 6, 2016 ~ 10:30 A.M.
Sale Site: Onawa Community Center, 320 – 10th St., Onawa, Iowa. Watch for Sign.
Herbert Fletcher has decided to sell his Monona County Farm that he and his Family have owned for many years at Public Auction. As you do your inspections of the Property you will see what an outstanding tract of Land it is. Mark your Calendar and make plans to attend!

PROPERTY LOCATION

From Onawa: From I-29 take IA-175 and drive 2.7 miles, turn right onto Cherry Avenue and go north 1.2 miles, the Land lies on both sides of road.
LEGAL DESCRIPTION

(Abstract to Govern) Parcel Legal – Part of Section 33 and 34, all in Township 84 North of Range 46 West of the 5th P.M. in Monona County, Iowa.

TRACT DESCRIPTION

FSA Information: (Farm No. 996, Tract No. 392 Description – F-7, SEC. 33, G-7 SEC. 34, 84-46, LINCOLN. Farmland – 168.78, Cropland – 143.4, Corn Base – 71, PLC Yield - 138 & CC Yield – 0.0, Soybean Base – 72.1, PLC Yield – 41 & CC Yield – 0.0

Soils: Cropland CSR1 – 60.8, CSR2 – 68.9 Taxes: $5,644, Taxable acres: 164.06±

AUCTION TERMS & CONDITIONS:

PROCEDURE: The property will be offered as 1 individual Tract. The sale price will be determined by taking taxable acres times the final price bid per acre.
DOWN PAYMENT: 10% down payment on the day of the auction with the balance in cash or certified funds at closing. The down payment may be made in the form of cash; cashier's check, personal check or corporate check. Your bidding is not conditional upon financing, so be sure you have arranged financing, if needed and are capable of paying cash or certified funds at closing.
ACCEPTANCE OF BID PRICES: The successful bidder will sign a purchase agreement at the auction site immediately following the close of bidding. The final bid price is subject to the Seller's approval. Such approval shall occur at the auction on auction day.
CLOSING: Closing shall occur on or before September 20th, 2016, and in accordance with the specific terms of the Agreement to Purchase. Possession shall be given at closing, subject to the remaining rights of the current tenant(s) for crop year 2016 ending March 1, 2017. Buyer will have full possession of the crop land for the 2017 crop year if they desire by giving proper notice. Real Estate Taxes will be prorated to date of closing. The closing will be handled by Michael Jensen Attorney - 710 Iowa Avenue, Onawa, Iowa 51040 Ph: 712-423-1652 or email: mpjensen@longlines.com
TITLE: Sellers are the sole owner's fee simple of the property.
EASEMENTS AND LEASES: Sale of said property is subject to any and all easements of record and any and all leases.
MINERAL RIGHTS: The sale of the property shall include all mineral rights owned by the Sellers, if any.
AGENCY: McCall Auctions & Real Estate and its representatives are exclusive agents of the Sellers.
DISCLAIMER AND ABSENCE OF WARRANTIES: All information contained in this brochure and any related materials are subject to the terms and conditions outlined in the Agreement to Purchase. ANNOUNCEMENTS MADE BY THE AUCTIONEER AT THE AUCTION PODIUM DURING THE TIME OF THE SALE WILL TAKE PRECEDENCE OVER ANY PREVIOUSLY PRINTED MATERIAL OR ANY OTHER ORAL STATEMENTS MADE. STATEMENTS, PROMISES, OR INDUCEMENTS MADE AT THE AUCTION THAT ARE NOT CONTAINED IN THE WRITTEN AGREEMENT TO PURCHASE SHALL NOT BE VALID AND BINDING. The property is being sold on an "AS IS, WHERE IS" basis, and no warranty or representation, either express or implied, concerning the property is made by the Sellers or the auction company. Each potential bidder is responsible for conducting his or her own independent inspections, investigations, inquiries, and due diligence concerning the property. The information contained in this advertising is believed to be accurate but is subject to verification by all parties relying on it. No liability for its accuracy, errors or omissions is assumed by the Sellers or the Auction Company. All sketches and dimensions in this brochure are approximate. All acreages are approximate and have been estimated based on legal descriptions or aerial photographs. Conduct at the auction and increments of bidding are at the direction and discretion of the auctioneer. The Sellers and Auction Company reserve the right to preclude any person from bidding if there is any question as to the person's credentials, fitness, etc. All decisions of the Auctioneer and Sellers' at the auction are final.
AUCTION COMPANY AND SELLERS ARE NOT RESPONSIBLE FOR ACCIDENTS.
.
NEW DATA, CORRECTIONS AND CHANGES: Please arrive prior to scheduled auction time to inspect any changes, corrections, or additions to the property information.
NOTE: Videotaping, flash photography, and/or public announcements will be allowed on auction day ONLY with prior approval from McCall Auctions & Real Estate.

Sellers: Herbert and Bonnie Fletcher
Michael Jensen - Attorney
Contact Russ McCall for further information Ph: 712-423-1901

For Complete Details, Photos, and Maps Log Onto: www.McCallAuctions.com
Auction Conducted By:
McCall Auctions and Real Estate
706 Iowa Avenue
Onawa, IA
712-423-1901
Russ and Brent McCall, Auctioneers
Loretta McCall and Andrea Meyer, Clerks