Secluded Home and Buildings Located in the Beautiful Loess Hills - (SOLD)
16473 Nutmeg Avenue
Castana, IA 51010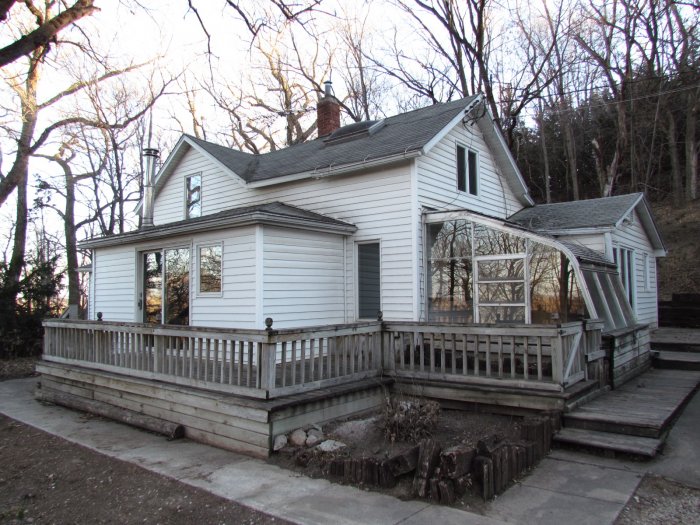 Property Description
This property is owned by the Debbie Kessler Estate. Don and Eileen Reed long time Realtors in Monona County were Debbie's parents. Don is the Executor of the Estate and would be more than glad to show you and offer his knowlege of the property. Call Don and Eileen for an appointment to view Ph: 712-353-6575

4.2 acres with deer, turkey and all the native wildlife all around you!! A must see to appreciate!
DEB & JERRY KESSLER'S ACREAGE
4.2 acres located in the Loess Hills, secluded – surrounded by Iowa State Land, Anderson thermo windows, insulated, new siding, 4 bedrooms, lots of closets, sky lights, propane furnace plus wood burning stove, stove, refrigerator, dishwasher, deep freeze, washer & dryer, 2 hot water heaters, Culligan soft water unit, hot tub, 2 bathrooms, 2 bath tubs – 3 showers, Kessler tile floor in Master bath, ceiling fans, track lighting, unique wood and textured walls, cathedral ceilings, wooden cupboards, Parkay flooring, newer central air & furnace, Excellent White Water, outside water hydrant, greenhouse with hot & cold water, Patio – 2 decks & walks made of redwood and railroad ties, nice roat cellar – built in 1943, chicken coop, one car garage, 2 car garage with new garage opener, 2 block buildings, well has submersible pump, partial basement with lots of shelving, propane tank – rented, estibalished outside plants, new addition – 10 to 15 years old, new door on greenhouse – solid cedar wood.
Assessor's Information: http://beacon.schneidercorp.com/Application.aspx?AppID=2&LayerID=13&PageTypeID=4&PageID=10&KeyValue=67-8444-04-2-50-003
From Onawa 9.5 miles, 19 minutes driving. On east side of Onawa take CR-L12 northeast and drive 7.2 miles, turn right and continue on Nutmeg Ave. driving 1.7 miles to 16473 Nutmeg Ave.